Friendly Local Game Store in Southern New Hampshire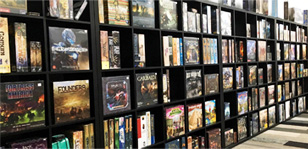 The Relentless Dragon Game Store is a full-service family-friendly, inclusive game store in Nashua, New Hampshire. We focus on specialty board games like Catan, Carcassonne, Scythe, and Ticket to Ride; trading card games like Magic: the Gathering, Pokémon, etc.; role-playing games like Dungeons & Dragons and Pathfinder, and tabletop miniature games, such as X-Wing and Armada, as well as the longstanding industry heavyweight, Games Workshop's Warhammer 40k and Age of Sigmar.
---
Online Store Now Available!
Our new online store at ShopRDGames.com is available for your shopping needs 24/7! You can browse our complete inventory and order online wherever you are.  Curbside pickup, in-store pickup, or shipping options are all available. You can even find the latest preorders online, guaranteeing that you get the latest hot products!
Browse our Magic: the Gathering inventory at our TCGPlayer Pro site, and purchase cards for in-store pickup from the comfort of your home!
---
Our 3,500 square foot shop in Nashua includes a large playing area of tables and chairs which can accommodate 40+ socially distanced card or board game players, plus three permanent and multiple pop-up wargaming tables. 
This space is available to use, free of charge, for game-related purposes which are consistent with our family-friendly, inclusive vision. If you're planning a large gathering, or a gathering on a day on which an event is planned, please call to check on availability.
Tournaments for various games are held on a regular basis. These tournaments include both manufacturer-sponsored and store-sponsored events. Check out our events calendar for more information!
Thursday, January 27, 2022
6:00 p.m.
Pathfinder Society (temporarily on hold)
Friday, January 28, 2022
6:30 p.m.
Magic: the Gathering: Casual Commander
6:45 p.m.
Friday Night Magic Draft
Saturday, January 29, 2022
12:00 p.m.
Warhammer 40k / Age of Sigmar Open Play
5:00 p.m.
Pokémon League (temporarily on hold)
Monday, January 31, 2022
6:30 p.m.
Magic: the Gathering Casual Modern Format
7:00 p.m.
Magic: the Gathering Legacy Weekly Event (temporarily on hold)
Tuesday, February 01, 2022
6:00 p.m.
Dungeons & Dragons on Tuesdays
Wednesday, February 02, 2022
6:00 p.m.
Dungeons & Dragons on Wednesdays
Thursday, February 03, 2022
6:00 p.m.
Pathfinder Society (temporarily on hold)
Friday, February 04, 2022
6:30 p.m.
Magic: the Gathering: Casual Commander
6:45 p.m.
Friday Night Magic Draft
Saturday, February 05, 2022
12:00 p.m.
Warhammer 40k / Age of Sigmar Open Play
5:00 p.m.
Pokémon League (temporarily on hold)
Monday, February 07, 2022
6:30 p.m.
Magic: the Gathering Casual Modern Format
7:00 p.m.
Magic: the Gathering Legacy Weekly Event (temporarily on hold)
Tuesday, February 08, 2022
6:00 p.m.
Dungeons & Dragons on Tuesdays
Wednesday, February 09, 2022
6:00 p.m.
Dungeons & Dragons on Wednesdays
Thursday, February 10, 2022
6:00 p.m.
Pathfinder Society (temporarily on hold)
Friday, February 11, 2022
6:30 p.m.
Magic: the Gathering: Casual Commander
6:45 p.m.
Friday Night Magic Draft
Saturday, February 12, 2022
12:00 p.m.
Warhammer 40k / Age of Sigmar Open Play
5:00 p.m.
Pokémon League (temporarily on hold)
Monday, February 14, 2022
6:30 p.m.
Magic: the Gathering Casual Modern Format
7:00 p.m.
Magic: the Gathering Legacy Weekly Event (temporarily on hold)
Tuesday, February 15, 2022
6:00 p.m.
Dungeons & Dragons on Tuesdays
Wednesday, February 16, 2022
6:00 p.m.
Dungeons & Dragons on Wednesdays
Thursday, February 17, 2022
6:00 p.m.
Pathfinder Society (temporarily on hold)
Friday, February 18, 2022
6:30 p.m.
Magic: the Gathering: Casual Commander
6:45 p.m.
Friday Night Magic Draft
Saturday, February 19, 2022
12:00 p.m.
Warhammer 40k / Age of Sigmar Open Play
5:00 p.m.
Pokémon League (temporarily on hold)
Monday, February 21, 2022
6:30 p.m.
Magic: the Gathering Casual Modern Format
7:00 p.m.
Magic: the Gathering Legacy Weekly Event (temporarily on hold)
Tuesday, February 22, 2022
6:00 p.m.
Dungeons & Dragons on Tuesdays
Wednesday, February 23, 2022
6:00 p.m.
Dungeons & Dragons on Wednesdays
Thursday, February 24, 2022
6:00 p.m.
Pathfinder Society (temporarily on hold)
Friday, February 25, 2022
6:30 p.m.
Magic: the Gathering: Casual Commander
6:45 p.m.
Friday Night Magic Draft
Saturday, February 26, 2022
12:00 p.m.
Warhammer 40k / Age of Sigmar Open Play
5:00 p.m.
Pokémon League (temporarily on hold)
Monday, February 28, 2022
6:30 p.m.
Magic: the Gathering Casual Modern Format
7:00 p.m.
Magic: the Gathering Legacy Weekly Event (temporarily on hold)
Tuesday, March 01, 2022
6:00 p.m.
Dungeons & Dragons on Tuesdays
Wednesday, March 02, 2022
6:00 p.m.
Dungeons & Dragons on Wednesdays
Thursday, March 03, 2022
6:00 p.m.
Pathfinder Society (temporarily on hold)
Friday, March 04, 2022
6:30 p.m.
Magic: the Gathering: Casual Commander
6:45 p.m.
Friday Night Magic Draft
Saturday, March 05, 2022
12:00 p.m.
Warhammer 40k / Age of Sigmar Open Play
5:00 p.m.
Pokémon League (temporarily on hold)
Monday, March 07, 2022
6:30 p.m.
Magic: the Gathering Casual Modern Format
7:00 p.m.
Magic: the Gathering Legacy Weekly Event (temporarily on hold)
Tuesday, March 08, 2022
6:00 p.m.
Dungeons & Dragons on Tuesdays
Wednesday, March 09, 2022
6:00 p.m.
Dungeons & Dragons on Wednesdays
Thursday, March 10, 2022
6:00 p.m.
Pathfinder Society (temporarily on hold)
Friday, March 11, 2022
6:30 p.m.
Magic: the Gathering: Casual Commander
6:45 p.m.
Friday Night Magic Draft
Saturday, March 12, 2022
12:00 p.m.
Warhammer 40k / Age of Sigmar Open Play
5:00 p.m.
Pokémon League (temporarily on hold)
Monday, March 14, 2022
6:30 p.m.
Magic: the Gathering Casual Modern Format
7:00 p.m.
Magic: the Gathering Legacy Weekly Event (temporarily on hold)
Tuesday, March 15, 2022
6:00 p.m.
Dungeons & Dragons on Tuesdays
Wednesday, March 16, 2022
6:00 p.m.
Dungeons & Dragons on Wednesdays
Thursday, March 17, 2022
6:00 p.m.
Pathfinder Society (temporarily on hold)
Friday, March 18, 2022
6:30 p.m.
Magic: the Gathering: Casual Commander
6:45 p.m.
Friday Night Magic Draft
Saturday, March 19, 2022
12:00 p.m.
Warhammer 40k / Age of Sigmar Open Play
5:00 p.m.
Pokémon League (temporarily on hold)
Monday, March 21, 2022
6:30 p.m.
Magic: the Gathering Casual Modern Format
7:00 p.m.
Magic: the Gathering Legacy Weekly Event (temporarily on hold)
Tuesday, March 22, 2022
6:00 p.m.
Dungeons & Dragons on Tuesdays
Wednesday, March 23, 2022
6:00 p.m.
Dungeons & Dragons on Wednesdays
Thursday, March 24, 2022
6:00 p.m.
Pathfinder Society (temporarily on hold)
Friday, March 25, 2022
6:30 p.m.
Magic: the Gathering: Casual Commander
6:45 p.m.
Friday Night Magic Draft
Saturday, March 26, 2022
12:00 p.m.
Warhammer 40k / Age of Sigmar Open Play
5:00 p.m.
Pokémon League (temporarily on hold)
Monday, March 28, 2022
6:30 p.m.
Magic: the Gathering Casual Modern Format
7:00 p.m.
Magic: the Gathering Legacy Weekly Event (temporarily on hold)
Tuesday, March 29, 2022
6:00 p.m.
Dungeons & Dragons on Tuesdays
Wednesday, March 30, 2022
6:00 p.m.
Dungeons & Dragons on Wednesdays
Thursday, March 31, 2022
6:00 p.m.
Pathfinder Society (temporarily on hold)
Friday, April 01, 2022
6:30 p.m.
Magic: the Gathering: Casual Commander
6:45 p.m.
Friday Night Magic Draft
Saturday, April 02, 2022
12:00 p.m.
Warhammer 40k / Age of Sigmar Open Play
5:00 p.m.
Pokémon League (temporarily on hold)
Monday, April 04, 2022
6:30 p.m.
Magic: the Gathering Casual Modern Format
7:00 p.m.
Magic: the Gathering Legacy Weekly Event (temporarily on hold)
Tuesday, April 05, 2022
6:00 p.m.
Dungeons & Dragons on Tuesdays
Wednesday, April 06, 2022
6:00 p.m.
Dungeons & Dragons on Wednesdays
Thursday, April 07, 2022
6:00 p.m.
Pathfinder Society (temporarily on hold)
Friday, April 08, 2022
6:30 p.m.
Magic: the Gathering: Casual Commander
6:45 p.m.
Friday Night Magic Draft
Saturday, April 09, 2022
12:00 p.m.
Warhammer 40k / Age of Sigmar Open Play
5:00 p.m.
Pokémon League (temporarily on hold)
Monday, April 11, 2022
6:30 p.m.
Magic: the Gathering Casual Modern Format
7:00 p.m.
Magic: the Gathering Legacy Weekly Event (temporarily on hold)
Tuesday, April 12, 2022
6:00 p.m.
Dungeons & Dragons on Tuesdays
Wednesday, April 13, 2022
6:00 p.m.
Dungeons & Dragons on Wednesdays
Thursday, April 14, 2022
6:00 p.m.
Pathfinder Society (temporarily on hold)
Friday, April 15, 2022
6:30 p.m.
Magic: the Gathering: Casual Commander
6:45 p.m.
Friday Night Magic Draft
Saturday, April 16, 2022
12:00 p.m.
Warhammer 40k / Age of Sigmar Open Play
5:00 p.m.
Pokémon League (temporarily on hold)
Monday, April 18, 2022
6:30 p.m.
Magic: the Gathering Casual Modern Format
7:00 p.m.
Magic: the Gathering Legacy Weekly Event (temporarily on hold)
Tuesday, April 19, 2022
6:00 p.m.
Dungeons & Dragons on Tuesdays
Wednesday, April 20, 2022
6:00 p.m.
Dungeons & Dragons on Wednesdays
Thursday, April 21, 2022
6:00 p.m.
Pathfinder Society (temporarily on hold)
Friday, April 22, 2022
6:30 p.m.
Magic: the Gathering: Casual Commander
6:45 p.m.
Friday Night Magic Draft
Saturday, April 23, 2022
12:00 p.m.
Warhammer 40k / Age of Sigmar Open Play
5:00 p.m.
Pokémon League (temporarily on hold)
Monday, April 25, 2022
6:30 p.m.
Magic: the Gathering Casual Modern Format
7:00 p.m.
Magic: the Gathering Legacy Weekly Event (temporarily on hold)
Tuesday, April 26, 2022
6:00 p.m.
Dungeons & Dragons on Tuesdays