Friendly Local Game Stores in Southern New Hampshire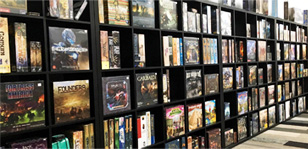 The Relentless Dragon Game Stores are full-service family game stores in Nashua, New Hampshire, and London­derry, New Hampshire. We focus on specialty board games like Catan, Carcassonne, Scythe, and Ticket to Ride; trading card games like Magic: the Gathering, Pokémon, etc.; role-playing games like Dungeons & Dragons and Pathfinder, and tabletop miniature games, such as X-Wing and Armada, as well as the longstanding industry heavyweight, Games Workshop's Warhammer 40k and Age of Sigmar.
---
Online Store Now Available
During the COVID-19 crisis, while the stores are closed to protect the public health, please shop online at https://relentlessdragon.americommerce.com/ We offer curbside pickup, as well as local delivery and shipping!
---
Open play space is currently closed due to the COVID-19 crisis. Under normal circumstances, our 3,500 square foot shop in Nashua includes a large playing area of tables and chairs which can accommodate 80 card or board game players, plus two permanent and multiple pop-up wargaming tables. Our 4,000 square foot shop in Londonderry includes an open play area with seating for over 60 card or board game players, plus seven large wargaming tables.
These spaces are available to use, free of charge, for game-related purposes which are consistent with our family-friendly, inclusive vision. Reservations are not required, though if you're planning a large gathering, or a gathering on a day on which an event is planned, they are recommended and appreciated.
Also during normal times, tournaments for various games are held on a regular basis. These tournaments include both manufacturer-sponsored and store-sponsored events. Check out our events calendar for more information!
Sorry! We have no events right now due to the pandemic! :(