Friendly Local Game Store in Southern New Hampshire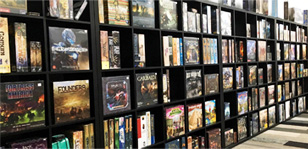 The Relentless Dragon Game Store is a full-service family-friendly, inclusive game store in Nashua, New Hampshire. We focus on specialty board games like Catan, Carcassonne, Scythe, and Ticket to Ride; trading card games like Magic: the Gathering, Pokémon, etc.; role-playing games like Dungeons & Dragons and Pathfinder, and tabletop miniature games, such as Marvel Crisis Protocol and Star Wars Legion, as well as the longstanding industry heavyweight, Games Workshop's Warhammer 40k and Age of Sigmar.
---
Shop Online!
Find us online at shop.relentlessdragon.com for all of your gaming needs 24/7! You can browse our complete inventory and order online wherever you are. Curbside pickup, in-store pickup, or shipping options are all available. You can even find the latest preorders online, guaranteeing that you get the latest hot products!
For Magic or Pokemon players and collectors, browse our card singles inventory at TCGPlayer Pro site, and purchase cards for in-store pickup from the comfort of your home!
---
Join us on Discord
Join the growing community on our Discord server. Get updates on store happenings and events, chat with fellow gaming enthusiasts, or use the various voice chat rooms to organize remote TCG or RPG games.
---
Our 3,500 square foot shop in Nashua includes a large playing area of tables and chairs which can accommodate 40+ socially distanced card or board game players, plus four permanent and multiple pop-up wargaming tables.
This space is available to use, for a small fee, for game-related purposes which are consistent with our family-friendly, inclusive vision. If you're planning a large gathering, or a gathering on a day on which an event is planned, please call to check on availability.
Tournaments for various games are held on a regular basis. These tournaments include both manufacturer-sponsored and store-sponsored events. Check out our events calendar for more information!
Monday, December 11, 2023
6:30 p.m.
Magic: the Gathering Modern Format
Tuesday, December 12, 2023
6:00 p.m.
Dungeons & Dragons on Tuesdays
Wednesday, December 13, 2023
6:00 p.m.
Pathfinder Society
6:00 p.m.
Dungeons & Dragons on Wednesdays
Friday, December 15, 2023
6:30 p.m.
Magic: the Gathering: Casual Commander
6:45 p.m.
Friday Night Magic Draft
Saturday, December 16, 2023
12:00 p.m.
Warhammer 40k / Age of Sigmar Open Play
5:00 p.m.
Pokémon League
Monday, December 18, 2023
6:30 p.m.
Magic: the Gathering Modern Format
Tuesday, December 19, 2023
6:00 p.m.
Dungeons & Dragons on Tuesdays
Wednesday, December 20, 2023
6:00 p.m.
Pathfinder Society
6:00 p.m.
Dungeons & Dragons on Wednesdays
Friday, December 22, 2023
6:30 p.m.
Magic: the Gathering: Casual Commander
6:45 p.m.
Friday Night Magic Draft
Saturday, December 23, 2023
12:00 p.m.
Warhammer 40k / Age of Sigmar Open Play
5:00 p.m.
Pokémon League
Tuesday, December 26, 2023
6:00 p.m.
Dungeons & Dragons on Tuesdays
Wednesday, December 27, 2023
6:00 p.m.
Pathfinder Society
6:00 p.m.
Dungeons & Dragons on Wednesdays
Friday, December 29, 2023
6:30 p.m.
Magic: the Gathering: Casual Commander
6:45 p.m.
Friday Night Magic Draft
Saturday, December 30, 2023
12:00 p.m.
Warhammer 40k / Age of Sigmar Open Play
5:00 p.m.
Pokémon League
Monday, January 01, 2024
6:30 p.m.
Magic: the Gathering Modern Format
Tuesday, January 02, 2024
6:00 p.m.
Dungeons & Dragons on Tuesdays
Wednesday, January 03, 2024
6:00 p.m.
Pathfinder Society
6:00 p.m.
Dungeons & Dragons on Wednesdays
Friday, January 05, 2024
6:30 p.m.
Magic: the Gathering: Casual Commander
6:45 p.m.
Friday Night Magic Draft
Saturday, January 06, 2024
12:00 p.m.
Warhammer 40k / Age of Sigmar Open Play
5:00 p.m.
Pokémon League
Monday, January 08, 2024
6:30 p.m.
Magic: the Gathering Modern Format
Tuesday, January 09, 2024
6:00 p.m.
Dungeons & Dragons on Tuesdays
Wednesday, January 10, 2024
6:00 p.m.
Pathfinder Society
6:00 p.m.
Dungeons & Dragons on Wednesdays
Friday, January 12, 2024
6:30 p.m.
Magic: the Gathering: Casual Commander
6:45 p.m.
Friday Night Magic Draft
Saturday, January 13, 2024
12:00 p.m.
Warhammer 40k / Age of Sigmar Open Play
5:00 p.m.
Pokémon League
Monday, January 15, 2024
6:30 p.m.
Magic: the Gathering Modern Format
Tuesday, January 16, 2024
6:00 p.m.
Dungeons & Dragons on Tuesdays
Wednesday, January 17, 2024
6:00 p.m.
Pathfinder Society
6:00 p.m.
Dungeons & Dragons on Wednesdays
Friday, January 19, 2024
6:30 p.m.
Magic: the Gathering: Casual Commander
6:45 p.m.
Friday Night Magic Draft
Saturday, January 20, 2024
12:00 p.m.
Warhammer 40k / Age of Sigmar Open Play
5:00 p.m.
Pokémon League
Monday, January 22, 2024
6:30 p.m.
Magic: the Gathering Modern Format
Tuesday, January 23, 2024
6:00 p.m.
Dungeons & Dragons on Tuesdays
Wednesday, January 24, 2024
6:00 p.m.
Pathfinder Society
6:00 p.m.
Dungeons & Dragons on Wednesdays
Friday, January 26, 2024
6:30 p.m.
Magic: the Gathering: Casual Commander
6:45 p.m.
Friday Night Magic Draft
Saturday, January 27, 2024
12:00 p.m.
Warhammer 40k / Age of Sigmar Open Play
5:00 p.m.
Pokémon League
Monday, January 29, 2024
6:30 p.m.
Magic: the Gathering Modern Format
Tuesday, January 30, 2024
6:00 p.m.
Dungeons & Dragons on Tuesdays
Wednesday, January 31, 2024
6:00 p.m.
Pathfinder Society
6:00 p.m.
Dungeons & Dragons on Wednesdays
Friday, February 02, 2024
6:30 p.m.
Magic: the Gathering: Casual Commander
6:45 p.m.
Friday Night Magic Draft
Saturday, February 03, 2024
12:00 p.m.
Warhammer 40k / Age of Sigmar Open Play
5:00 p.m.
Pokémon League
Monday, February 05, 2024
6:30 p.m.
Magic: the Gathering Modern Format
Tuesday, February 06, 2024
6:00 p.m.
Dungeons & Dragons on Tuesdays
Wednesday, February 07, 2024
6:00 p.m.
Pathfinder Society
6:00 p.m.
Dungeons & Dragons on Wednesdays
Friday, February 09, 2024
6:30 p.m.
Magic: the Gathering: Casual Commander
6:45 p.m.
Friday Night Magic Draft
Saturday, February 10, 2024
12:00 p.m.
Warhammer 40k / Age of Sigmar Open Play
5:00 p.m.
Pokémon League
Monday, February 12, 2024
6:30 p.m.
Magic: the Gathering Modern Format
Tuesday, February 13, 2024
6:00 p.m.
Dungeons & Dragons on Tuesdays
Wednesday, February 14, 2024
6:00 p.m.
Pathfinder Society
6:00 p.m.
Dungeons & Dragons on Wednesdays
Friday, February 16, 2024
6:30 p.m.
Magic: the Gathering: Casual Commander
6:45 p.m.
Friday Night Magic Draft
Saturday, February 17, 2024
12:00 p.m.
Warhammer 40k / Age of Sigmar Open Play
5:00 p.m.
Pokémon League
Monday, February 19, 2024
6:30 p.m.
Magic: the Gathering Modern Format
Tuesday, February 20, 2024
6:00 p.m.
Dungeons & Dragons on Tuesdays
Wednesday, February 21, 2024
6:00 p.m.
Pathfinder Society
6:00 p.m.
Dungeons & Dragons on Wednesdays
Friday, February 23, 2024
6:30 p.m.
Magic: the Gathering: Casual Commander
6:45 p.m.
Friday Night Magic Draft
Saturday, February 24, 2024
12:00 p.m.
Warhammer 40k / Age of Sigmar Open Play
5:00 p.m.
Pokémon League
Monday, February 26, 2024
6:30 p.m.
Magic: the Gathering Modern Format
Tuesday, February 27, 2024
6:00 p.m.
Dungeons & Dragons on Tuesdays
Wednesday, February 28, 2024
6:00 p.m.
Pathfinder Society
6:00 p.m.
Dungeons & Dragons on Wednesdays
Friday, March 01, 2024
6:30 p.m.
Magic: the Gathering: Casual Commander
6:45 p.m.
Friday Night Magic Draft
Saturday, March 02, 2024
12:00 p.m.
Warhammer 40k / Age of Sigmar Open Play
5:00 p.m.
Pokémon League
Monday, March 04, 2024
6:30 p.m.
Magic: the Gathering Modern Format
Tuesday, March 05, 2024
6:00 p.m.
Dungeons & Dragons on Tuesdays
Wednesday, March 06, 2024
6:00 p.m.
Pathfinder Society
6:00 p.m.
Dungeons & Dragons on Wednesdays
Friday, March 08, 2024
6:30 p.m.
Magic: the Gathering: Casual Commander
6:45 p.m.
Friday Night Magic Draft
Saturday, March 09, 2024
12:00 p.m.
Warhammer 40k / Age of Sigmar Open Play
5:00 p.m.
Pokémon League