Dungeons & Dragons Supplies
While you can start playing in your first Dungeons & Dragons game with just a few borrowed dice, you'll likely soon find that you–or your loved one who plays–will be eager to supplement your supplies. We've listed a few important items below.
D&D Starter Set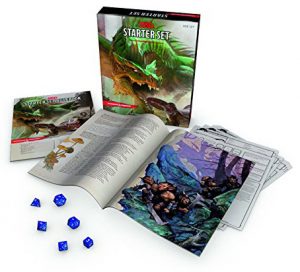 Everything you need to start playing the world's greatest roleplaying game.
Explore subterranean labyrinths! Plunder hoards of treasure! Battle legendary monsters!
The Dungeons & Dragons Starter Set is your gateway to action-packed stories of the imagination. This box contains the essential rules of the game plus everything you need to play heroic characters on perilous adventures in worlds of fantasy.
Ideal for a group of 4-6, the Dungeons & Dragons Starter Set includes:
64-page adventure book with everything the Dungeon Master needs to get started
32-page rulebook for playing characters level 1-5
5 pre-generated characters, with character sheet
6 dice (no percentile die!)
WizKids Dungeons & Dragons Fantasy Miniatures: Icons of the Realms Epic Level Starter Set
The D&D Icons of the Realms Epic Level Starter Set is the perfect supplement for your D&D tabletop roleplaying game.
The 7-figure Starter Set represents some of the most iconic characters classes and races from the Dungeons & Dragons universe, including a dwarf cleric, human ranger, halfling rogue, northlands fighter, elf wizard, and the famous drow ranger, Drizzt Do'Urden. An alternate clear version of the halfling rogue is also included, to represent visibility.
In addition to the figures, a foldable 21- by 15-inch paper map is included.
Player's Handbook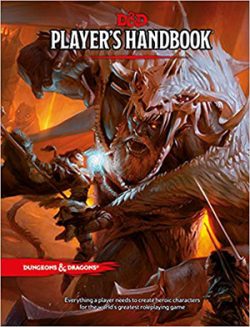 Everything a player needs to create heroic characters for the world's greatest roleplaying game.
The Player's Handbook is the essential reference for every Dungeons & Dragons roleplayer. This hardcover book contains rules for character creation and advancement, backgrounds and skills, exploration and combat, equipment, spells, and much more. Use this book to create exciting characters from among the most iconic D&D races and classes.
The world needs heroes. Will you answer the call?
Monster Manual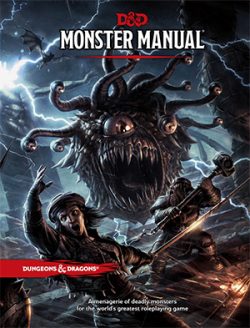 A menagerie of deadly monsters for the world's greatest roleplaying game.
The Monster Manual presents a horde of classic Dungeons & Dragons creatures, including dragons, giants, mind flayers, and beholders—a monstrous feast for Dungeon Masters ready to challenge their players and populate their adventures.
The monsters contained herein are culled from the D&D game's illustrious history, with easy-to-use game statistics and thrilling stories to feed your imagination.
Dungeon Master's Guide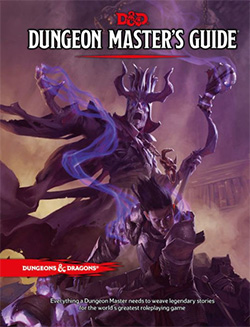 Everything a Dungeon Master needs to weave legendary stories for the world's greatest roleplaying game.
The Dungeon Master's Guide provides the inspiration and the guidance you need to spark your imagination and create worlds of adventure for your players to explore and enjoy.
Inside this beautiful hardcover book you'll find world-building tools, tips and tricks for creating memorable dungeons and adventures, optional game rules, hundreds of classic D&D magic items, and much more!
Polyhedral Dice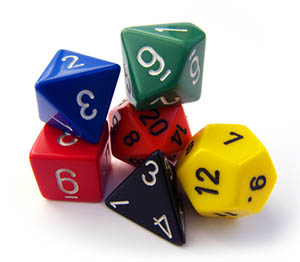 You can't play without dice!
We offer a large selection of both loose dice and dice sets designed for easy play. Basic sets start as low as $3.50, and we also offer a variety of premium dice. Read more about dice, and then come by the store to see the whole selection!
&nbsp