Posted on Friday, May 27, 2022, at 1:40 p.m., in Events, Magic: the Gathering, Magic: the Gathering Events
This post is at least a year old. Please take that into consideration when reading it.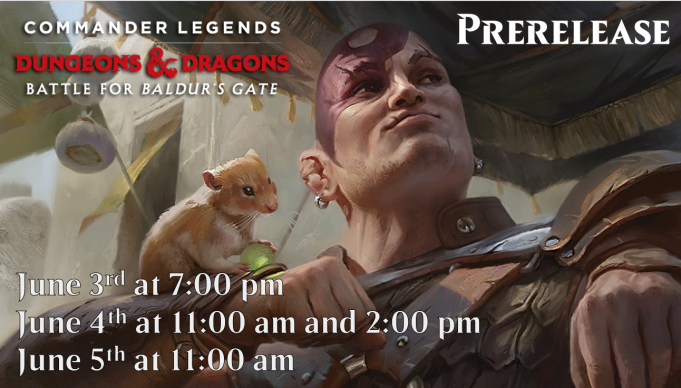 Dungeons & Dragons storytelling meets Magic's most social format in a new crossover multiplayer experience for the ages. Turn every Commander game into an adventure with iconic D&D characters and spells. And create your own powerful character from the ground up with the return of Commander Draft.Magic Prerelease events allow you to play with the latest Magic set before it releases to the general public. Prerelease events are fun, casual tournaments designed for all skill levels.
This is a very special event where players will be split into 8 person pods to draft a Commander deck from the contents of their prerelease kit! Players will then proceed to play a single-round multiplayer (4 player) Commander game with those decks. All participants will receive a set booster as a participation prize. The winner of each Commander pod will receive an additional Set booster as a prize.
Click an event time to register online!
Friday June 3rd at 7:00 pm: Commander Draft
Saturday June 4th at 11:00 am: Commander Draft
Saturday June 4th at 2:00 pm: Commander Draft
Sunday June 5th at 11:00 am: Commander Draft
Pre-registration is STRONGLY recommended. Prerelease events are very popular and have sold out before. Avoid disappointment and pre-register early! Prereleases are casual, fun events where you get the opportunity to play with the new set's cards before they release. If you've never attended a tournament before, this is a great way to get involved with no pressure!