Posted on Thursday, June 4, 2015, at 8:35 p.m., in Dungeons & Dragons, Events
This post is at least a year old. Please take that into consideration when reading it.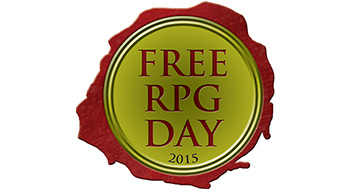 Free RPG Day is right around the corner. Join us on Saturday June 20th 2015 for a fun-filled day learning and playing Role Playing Games you've never played before, or play your current favorites. And, everyone leaves with something!
We will post an exact schedule of which games will be run at which times, so check back for those details. Some of the games featured this year are:
Pathfinder Adventure Card Game
Munchkin
Pathfinder RPG
Cosmic Patrol
Dungeon Crawl Classics
Shadowrun
Battletech: A Time of War
D&D 5th Ed (via Fifth Edition Fantasy)
Valiant RPG
13th Age
Black Agents
Atlantis RPG
Hellas RPG
Castles & Crusades
Through the Breach
Kobolds Ate My Baby
Giveaways are limited and will be offered on a first-come, first-serve basis with priority given to those who play in the particular gaming session.
For more details, please see FreeRPGDay.com
---
Keywords: Dungeons & Dragons, Free RPG Day, role-playing games