X-Wing Demo and Tournament Saturday August 23rd
WARNING! This event is in the past!!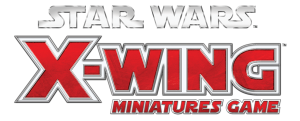 Event Date: August 23, 2014 WARNING! This event is in the past!!
Event Start Time: 12:00 p.m.
Event End Time: Unspecified (perhaps due to variability)
Event Cost: $
If you haven't played Fantasy Flight Games' X-Wing yet, you are missing out on a fantastic experience! There is a very low barrier to entry for this game, as opposed to traditional minis games like Warhammer 40K and Warmachine. And, if you don't have the time or skills for the hobby side of the game, all X-Wing minis are pre-painted (and beautifully done, unlike a lot of existing pre-painted minis). A standard 100-point/side game takes about 40-50 minutes to complete.
If you are interested in learning X-Wing, we will be hosting a demo event this coming Saturday, followed by an official X-Wing tournament. The demo will begin at Noon on 8/23, followed by a tournament at 1:30. Players who wish to participate in the tournament will be required to bring a legal 100-point force to the event. The demo is FREE for all, while entry to the tournament is $5. Prizes will be provided in the form of acrylic tokens, alternate art pilot cards, and X-Wing card storage boxes.