Toys for Tots In-Store Convention 2017
WARNING! This event is in the past!!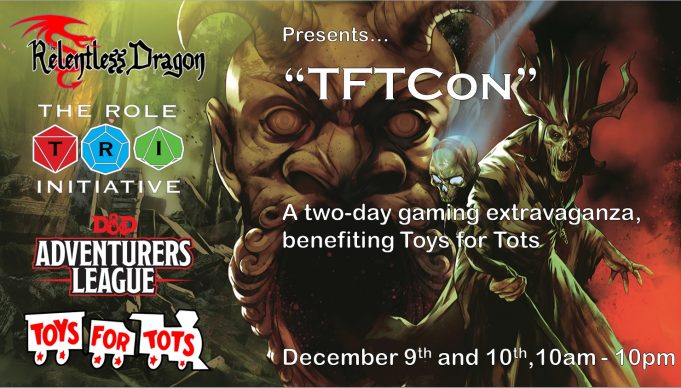 Event Date: December 9, 2017 WARNING! This event is in the past!!
Event Start Time: 12:00 p.m.
Event End Time: Unspecified (perhaps due to variability)
Event Cost: $
Join The Relentless Dragon and the Role Initiative on Saturday December 9th and Sunday December 10th for a two day gaming extravaganza benefiting Toys for Tots.  Please consider bringing or buying a new, unwrapped toy for Toys for Tots.  We will have a selection of appropriate toys available for purchase at the store.
There will be tons of new and exclusive Dungeons and Dragons Adventurer's League content, including the classic Season 2 Epic, Mulmaster Undone!  Other highlights include TRI's Beholder Corps series, as well as the debut of several new Season 7 AL adventures–play them here before you can play them anywhere else!
To sign up for specific D&D events, please see the Warhorn page for this event: https://warhorn.net/events/tftcon
All other store activities will be occurring normally on Saturday and Sunday, including Warhammer 40K and Pokemon League.