Theros Game Day Events Saturday October 19th and Sunday October 20th
WARNING! This event is in the past!!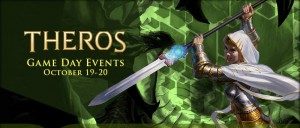 Event Date: October 19, 2013 WARNING! This event is in the past!!
Event Start Time: 11:00 a.m.
Event End Time: Unspecified (perhaps due to variability)
Event Cost: $10
Game Days are the first opportunity for you to play Standard on a global scale with the newest cards.
The following sets are Standard legal: Return to Ravnica, Gatecrash, Dragon's Maze, Magic 2014 Core Set, and Theros.
All participants receive an exclusive Phalanx Leader full-art promo card (while supplies last). The Top 8 players each receive an exclusive Nighthowler full-art foil promo card. The cards are awarded to the Top 8 players even if the tournament cuts only to the Top 4.
In addition, the 1st-place winner of Theros Game Day will receive an exclusive Playmat.
Finally, 100% of all tournament proceeds are paid out in the form of store credit!
Face the Hydra!
Bring the Hero Cards you've earned at Theros Pre-release and Launch Weekend to help you defeat the Face the Hydra Challenge Deck at Theros Game Day. This special deck is a special activity that you can challenge beginning with Game Day, between rounds or at your convenience. It's not a part of the tournament, but you'll want to defeat the Hydra to earn the third Hero Card on the Hero's Path.
You can use up to two Hero Cards to help you against the Face the Hydra Challenge Deck.
Game Day will be held on both Saturday and Sunday. Events begin at noon and the cost to enter is $10 with all proceeds paid out as prizes!