Star Wars X-Wing Store Championships 2018
WARNING! This event is in the past!!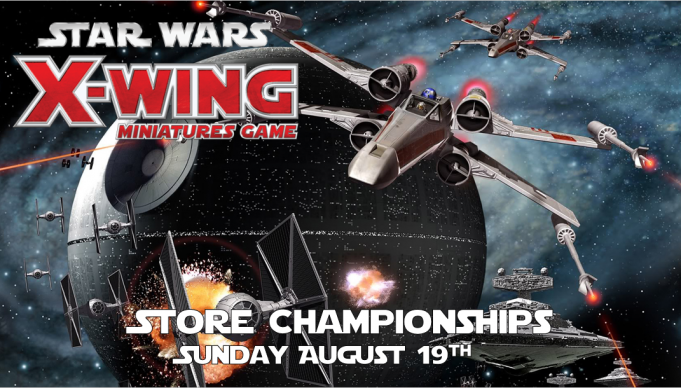 Event Date: August 19, 2018 WARNING! This event is in the past!!
Event Start Time: 11:00 a.m.
Event End Time: Unspecified (perhaps due to variability)
Event Cost: $10
Enjoy one final event for X-Wing version 1.0 before the 2.0 version of the game is introduced.
Format: 100 points
Date: August 19 2018
Start Time: Round 1 begins at 11:00am
Registartion: Opens at 10:00am
Entrance Fee: $10.00
This event follows the standard Fantasy Flight tournament rules. Total Swiss rounds will be determined by the number of players.
Fantasy Flight considers Store Championship events to be "Relaxed" tier.
Please familiarize yourself with the latest updates to the FAQ.
It is recommended that you come to the event with a squadron sheet already filled out to save time.
Prize distribution for this event is as follows:
1st: Round one bye for a future Hyperspace Trial
Top Two: Plastic Cavern Angels Zealot ship card
Top Four: One alternate art/double-sided copy of Director Krennic
Top Eight: One set of acrylic range rulers
Top Thirty-Two: One alternate art/extended art copy of Juke
Additional prizes will be dependent on total attendance.