Star Wars Armada Store Championship 2018
WARNING! This event is in the past!!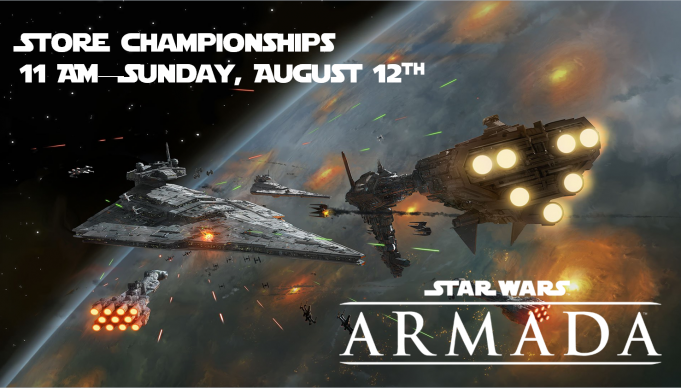 Event Date: August 12, 2018 WARNING! This event is in the past!!
Event Start Time: 11:00 a.m.
Event End Time: Unspecified (perhaps due to variability)
Event Cost: $10
2018 Star Wars: Armada Store Championship
First place will receive a bye at a regional tournament, and there are plenty of other prizes to go around. We will play swiss rounds based on attendance, followed by a cut to the top 4 or 8 as appropriate. This is a competitive event, which means players should have a strong grasp of the rules of the game but need not be experts.
It is recommended that players bring a completed fleet list sheet with them to the event to save time during registration.
Entry Fee: $10
Registration Start Time: 10:00 am
Start Time: 11:00 am
Prizes:
Top 32: Alternate-art prize cards
Top 4: Acrylic brace tokens
Top 2: Double-sided plastic upgrade card
Champion: Regional Championship bye card
Additional prizes dependent on total attendance.