Shadows over Innistrad Prerelease Events
WARNING! This event is in the past!!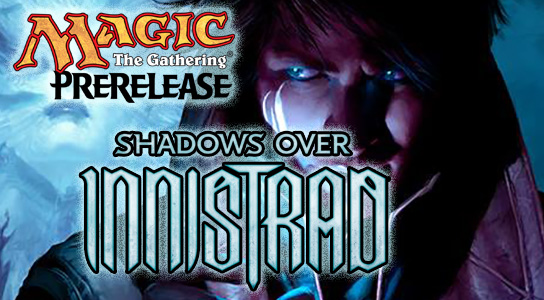 Event Date: April 2, 2016 WARNING! This event is in the past!!
Event Start Time: 12:01 a.m.
Event End Time: Unspecified (perhaps due to variability)
Event Cost: $26
Shadows over Innistrad (SOI) is the latest set for Magic: the Gathering, and the first set in the new Innistrad block. Shadows over Innistrad sees the return to the gothic horror inspired plane of Innistrad. Shadows introduces a brand-new Planeswalker–the first ever werewolf planeswalker!
Shadows over Innistrad returns the game to the immensely popular plane of Innistrad. The original Innistrad block originally introduced flip cards and was the first Magic set to focus on classic horror themes, such as Vampires, Zombies, and Werewolves.
Magic Pre-Release events allow you to play with the latest Magic set before it releases to the general public. Pre-Release events are fun, casual tournaments designed for all skill levels.
This is a sealed deck event where each player will receive a special kit containing six Shadows over Innistrad packs, a promo card, and a spindown life counter. Continuing in this set, ANY rare or mythic rare can appear as a date-stamped promo card! Each player builds a 40 card minimum deck from the cards in their kit and basic lands.
There are four separate events throughout the weekend. Sealed deck at midnight Saturday, Sealed deck at 11AM Saturday, Two-Headed Giant Sealed at 4PM on Saturday, and Sealed deck at 11:00AM on Sunday.
Pre-registration (at the store or over the phone) is STRONGLY recommended. Pre-Release events are very popular and this event especially so. Avoid disappointment and pre-register early!
In addition to guaranteeing your spot in the event, pre-registering and pre-paying will give you TWO entries into the door prize giveaway. The ultimate prize for the door prize giveaway is a copy of From the Vault: Angels! Pre-register and pre-pay for 3 total events across the weekend and receive THREE door prize tickets per event!
The cost to play is $26.
There will be 4 total swiss rounds with prize payouts based on your overall record in the event. In addition, each player who wins a round will get a free draw from our special Promo Board of Mystery! The Board of Mystery will be seeded with lots of promos from previous releases, including some very special surprises!
Pre-releases are casual, fun events where you get the opportunity to play with the new set's cards before they release. If you've never attended a tournament before, this is a great way to get involved with no pressure!