Pokemon Sword & Shield Prerelease (Event 3 of 4)
WARNING! This event is in the past!!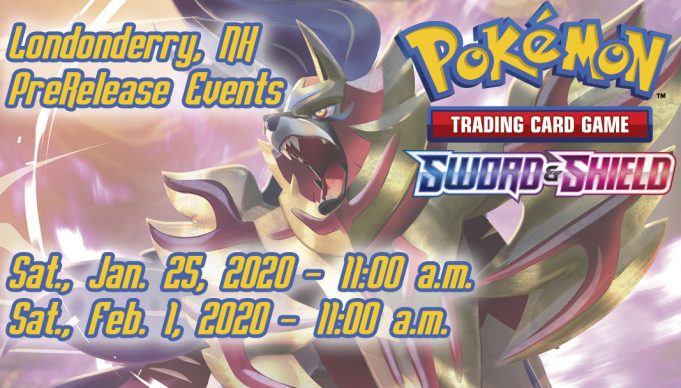 Event Date: February 1, 2020 WARNING! This event is in the past!!
Event Start Time: 11:00 a.m.
Event End Time: 2:00 p.m. (may be an estimate)
Event Location: 123 Nashua Rd., Unit 5, Londonderry, New Hampshire
Event Cost: $25
Pre-register online: Click here to preregister or register right on this page, below!
Add to your Google Calendar:
Join us for the exciting prerelease for the 1st set in the Pokemon TCG Sword and Shield series!
Get your hands on cards from the new set before they release to the general public. Each player will receive one Sword and Shield Build and Battle Kit with which to build a deck for the event. Each kit contains a 22 card evolution pack, a promo card, and 4 booster packs of Sword and Shield. At event completion all participants will receive an additional three packs of Sword and Shield just for participating!