Pokemon Guardians Rising Prerelease
WARNING! This event is in the past!!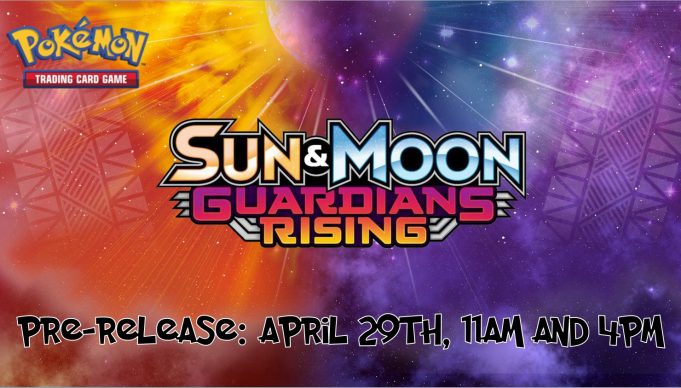 Event Date: April 29, 2017 WARNING! This event is in the past!!
Event Start Time: 11:00 a.m.
Event End Time: Unspecified (perhaps due to variability)
Event Cost: $25
Join us on Saturday, April 29th for the exciting pre-release for Pokemon Sun and Moon Guardians Rising, the second set in the Sun and Moon series.
The cost to enter is $25. Each player will receive a Sun and Moon Guardians Rising pre-release kit containing 4 booster packs of Guardians Rising, a Promo card, and a special Evolution pack. At the completion of the event, each player will receive an additional 3 Guardians Rising booster packs.
There will be two events on Saturday April 29th. The first will start at 11:00AM (registration begins at 10:00AM) and can support a maximum of 50 players. The second event will begin at 4:00PM (registration begins at 3:00PM) and will support a maximum of 38 players.
Pokemon pre-releases tend to sell out, so pre-registration is strongly encouraged. You can pre-register in-person at the store, or online via our Events Registration Site. We apologize, but we cannot accept pre-registrations over the phone.