Pokemon Forbidden Light Prerelease
WARNING! This event is in the past!!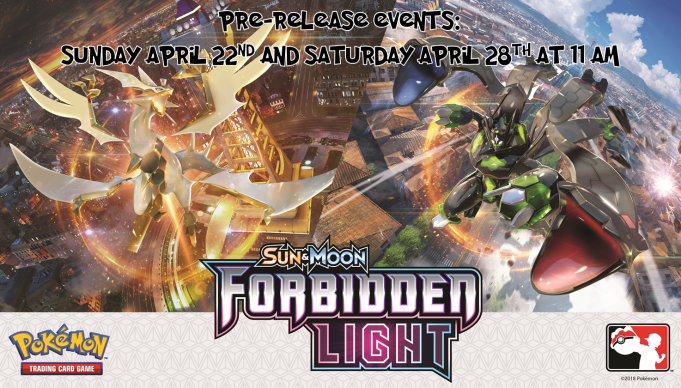 Event Date: April 22, 2018 WARNING! This event is in the past!!
Event Start Time: 11:00 a.m.
Event End Time: Unspecified (perhaps due to variability)
Event Cost: $25
Join us for the exciting pre-release of Forbidden Light, the 6th set of Pokemon Sun & Moon.
Sunday April 22nd and Saturday April 28th.
Each player will receive a Forbidden Light pre-release kit containing 4 booster packs of Pokemon Forbidden Light, a Promo card, and a special Evolution pack. At the completion of the event, each player will receive an additional 3 Forbidden Light booster packs.
On-site registration begins at 10:00AM and the actual event begins at 11:00AM. Pre-registration before the day of the event is strongly recommended as Pokemon pre-releases do sell out. This event will be capped at 32 total players.