Magic PPTQ – Iconic Masters Sealed
WARNING! This event is in the past!!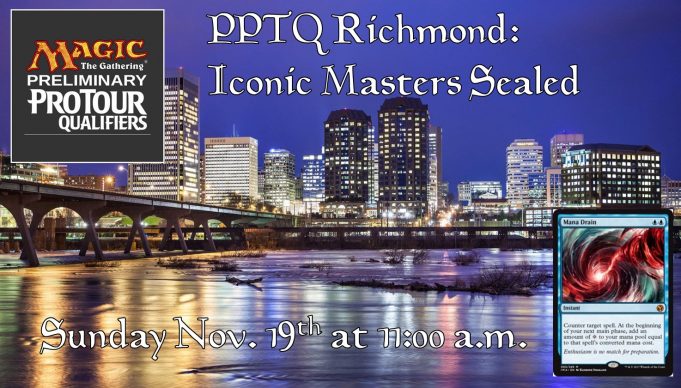 Event Date: November 19, 2017 WARNING! This event is in the past!!
Event Start Time: 11:00 a.m.
Event End Time: Unspecified (perhaps due to variability)
Event Cost: $80
Sunday November 19th
Here's your chance to secure a spot in the Regional Pro Tour Qualifier for Pro Tour Richmond 2018, AND score some cool Iconic Masters cards too!
This is an Iconic Masters sealed deck event.
All PPTQs are run at Competitive REL. Head Judge will be NH L2 Chris Wendelboe.
The cost to enter is $80 and includes 6 packs for sealed, plus 4 packs into the prize pool for every registrant. The more people that play, the larger the prize pool!
There will NOT be a top 8 draft. Cut to top 8 will take place with the original sealed decks.
Seating will be limited based on available allocations of Iconic Masters. Pre-registration is recommended!
Day of event sign-ups begin at 10:00AM and players will be seated for sealed pool registration at 11:00AM.