Magic Celebration Saturday September 7th
WARNING! This event is in the past!!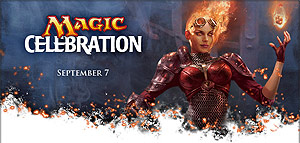 Event Date: August 31, 2013 WARNING! This event is in the past!!
Event Start Time: 11:00 a.m.
Event End Time: Unspecified (perhaps due to variability)
Event Cost: FREE
Magic Celebration is a great way to celebrate your favorite game! Enjoy an event courtesy of Wizards of the Coast at the Relentless Dragon. Play a special limited format of Magic at no cost and walk away with some free cards, compliments of Wizards of the Coast! In addition, players of Duels of the Planeswalkers will receive a special code to unlock downloadable content in the game.
Each Magic Celebration player receives one Magic 2014 Core Set booster pack. After opening your booster pack, you'll choose a Magic 2014 Core Set Sample Deck to base your deck on. Shuffle the cards you want to play from your booster pack into your sample deck and play three best-of-three matches with different opponents. When you've played all of your matches, show your completed score card to the tournament organizer to receive an additional Magic 2014 Core Set booster pack as a prize!
Magic Celebration will begin at 11:30AM on Saturday, September 7th. The store opens at 11AM, so be sure to arrive early to reserve your spot. Supplies of free boosters and sample decks are limited.