Lightseekers TCG: Learn to Play and Sealed Starter Deck Event
WARNING! This event is in the past!!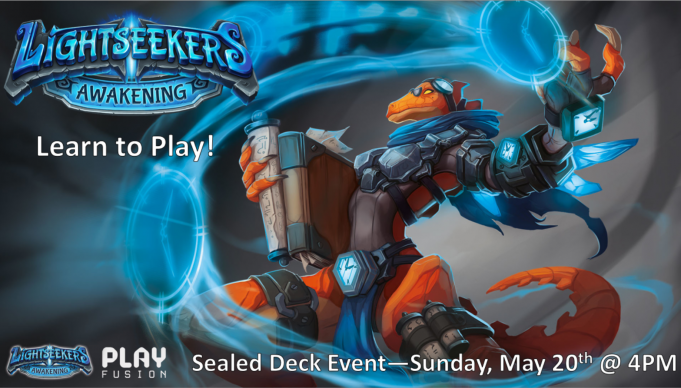 Event Date: May 20, 2018 WARNING! This event is in the past!!
Event Start Time: 12:00 p.m.
Event End Time: Unspecified (perhaps due to variability)
Event Cost: $25
Lightseekers TCG: Organized Play – Starter Deck Sealed Tournament
Time: Learn to Play: 12:00pm – 2:30pm
Registration 3:00pm – 4:00pm, Event beginning soon after
Starter Deck Sealed events are a great way for new players to get right into the Lightseekers action without having to worry about bringing their own cards.
Players will receive:
1 Starter Deck of their choice
2 Additional Booster Packs of Lightseekers: Awakening
A special foil Combo card
Players will have 20 minutes to build decks with ONLY the cards from their own Starter Deck and Booster Packs.
A deck must contain 36 cards consisting of:
1 Hero card
5 Combo cards, All cards must be unique
30 Action cards, Any cards that are not Heroes or Combos are Action cards, A deck may only include 3 copies of any card.
Format: Event will be played in Best of 3 format (45 minutes + Sudden Death) Swiss rounds, with a single elimination top-cut Best of 3 (60 minutes + Sudden Death) as attendance warrants.
Prizes:
1st: Special foil Hero card, Exclusive Hero play mat, 12 Booster Packs
2nd: Special foil Hero card, 8 Booster Packs
3rd and 4th: Special Hero foil card, 4 Booster Packs