Khans of Tarkir Prerelease Events Saturday and Sunday, September 20th-21st
WARNING! This event is in the past!!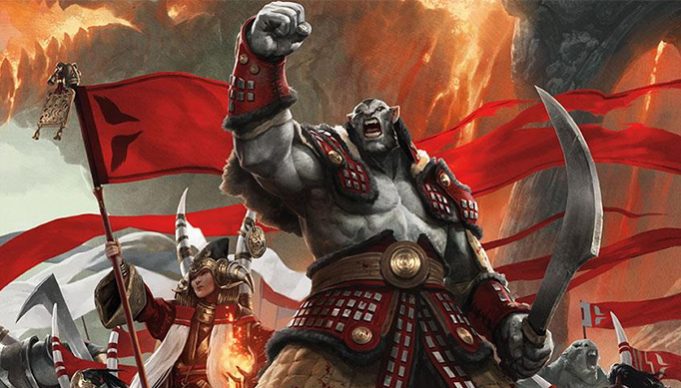 Event Date: September 20, 2014 WARNING! This event is in the past!!
Event Start Time: 12:01 a.m.
Event End Time: Unspecified (perhaps due to variability)
Event Cost: $25
Khans of Tarkir is the latest set for Magic: the Gathering, and the start of Tarkir block. Khans is a "wedge" set, focusing on five clans, each of which is identified by a wedge of 3 colors–a color and its two enemy colors. Khans takes place on the homeworld of the dragon-worshipping planeswalker Sarkhan Vol. Khans of Tarkir also brings reprints of the very popular Onslaught allied-color fetchlands!
Magic Pre-Release events allow you to play with the latest Magic set before it releases to the general public. Pre-Release events are casual tournaments designed for all skill levels, and serve as a great introduction to tournament play for new players.
Format: This is a sealed deck event and continues the tradition of allowing players to choose from five different pre-release kits, each focused on one of the five clans of Tarkir. Each kit contains 5 packs of Khans of Tarkir, 1 special pack of clan-aligned cards (including the pre-release promo), a spindown die, and more. Each player builds a 40-card minimum deck from the cards in their kit.
For Tarkir block there is a new twist on pre-release promos. Instead of just five promos, one for each clan, there are 8 possible promo cards for each clan, meaning there are a potential total 40 pre-release promos! Your pre-release promos CAN be used in your sealed deck.
Event Times: Pre-Release events will be run at midnight on Saturday morning (that's a minute past 11:59 on Friday night), 11AM Saturday, 2-Headed Giant Sealed at 3:30PM on Saturday, and 12PM (Noon) on Sunday. Pre-registration (at the store) is HIGHLY recommended (or you can call in a pre-registration with a credit card). Pre-Release events are very popular and the total number of players in each of the five clans will be limited. The total players for the Saturday Midnight and 11AM events will be capped at 40, while 2-headed Giant and Sunday's event will be capped at 20 players each. Due to the popularity of the fetchland reprints, events will likely sell out early.
Prizes: In addition to guaranteeing your spot in the event, pre-registering and pre-paying will give you TWO entries into the door prize giveaway. The ultimate prize for the door prize is a copy of From the Vault: Annihilation! In addition, we will be continuing the "Free Foil Board" that we introduced with the M15 pre-release. For every match win, draw a card from the random foil board! You never know what you may pull…
Cost: The cost is $25. There will be 4 total swiss rounds with prize payouts based on your overall record in the event.
Have Fun! Pre-releases are casual, fun events where you get the opportunity to play with the new set's cards before they release. If you've never attended a tournament before, this is a great way to get involved with no pressure!