KeyForge Pre-Launch Events
WARNING! This event is in the past!!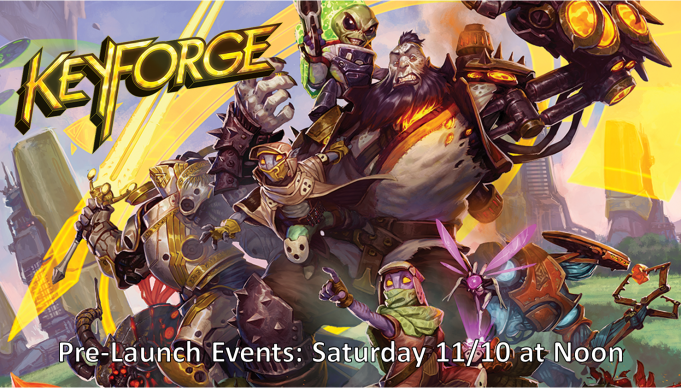 Event Date: November 10, 2018 WARNING! This event is in the past!!
Event Start Time: 12:00 p.m.
Event End Time: Unspecified (perhaps due to variability)
Event Cost: FREE
When is it?
Saturday 11/10/2018 beginning at Noon in both the Nashua AND Londonderry stores!
What is KeyForge?
KeyForge is a brand new game concept from designer Richard Garfield and publisher Fantasy Flight Games. The players are facing off in a race to forge three keys that will allow them to unlock hidden powers. Games are played using unique KeyForge decks. That's right–unique! Every deck sold for the game is different – over 1 trillion different decks are possible. No two decks for the game are the same – meaning your game experiences will be wildly different!  Decks are affordably priced and players are encouraged to find a deck that suits their play style.
What is the Pre-Launch Event?
Starting November 10th, KeyForge Pre-Launch Events offer attendees a chance to get their hands on the world's first Unique Deck Game ahead of its official launch!
Learn how to play, and sample the game's thrilling, back-and-forth game play.
Gain a custom lanyard and glossary card when you play a game at the Relentless Dragon
Claim a pin for your favorite House when you purchase your first Archon deck.
What does it Cost?
Aside from the cost of a starter set or an Archon deck, this event is completely free!