Journey into Nyx Prerelease Events Saturday April 26th through Sunday April 27th
WARNING! This event is in the past!!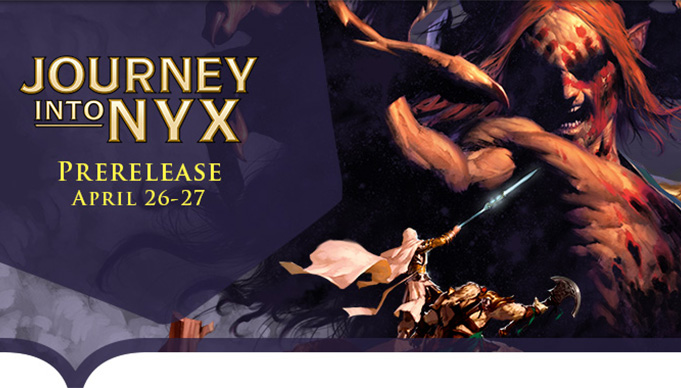 Event Date: April 26, 2014 WARNING! This event is in the past!!
Event Start Time: 12:01 a.m.
Event End Time: Unspecified (perhaps due to variability)
Event Cost: $25
Journey into Nyx is the latest set for Magic: the Gathering, and the last set in the Theros block. We will celebrate its coming release with a number of pre-release events on Saturday April 26th and Sunday April 27th. Journey into Nyx is a "small" set and continues the themes set forth in Theros and Born of the Gods, presenting Magic's unique take on popular Greek and Roman mythology.
Theros block has been immensely popular and JOurney into Nyx should continue that trend. Similar to Innistrad, Theros block is designed in a "top-down" fashion, ensuring that the Greek and Roman mythology "flavor" permeates every aspect of the set. Theros block is an enchantment themed block, the first such theme since Urza's block 15 years ago!
The pre-release events allow you to play with the latest Magic set before it releases to the general public. Pre-release events are casual, fun events where you can play with new cards, make some new friends, and win great prizes as well.
There will be at least four events during Pre-Release weekend: Saturday April 26th at Midnight (Sealed Deck), Saturday April 26th at 11AM (Sealed Deck), Saturday April 26th at 3:30PM (2-Headed Giant Sealed), and Sunday April 27th at 12:00PM (Sealed Deck). If there is sufficient demand we will run a second sealed or 2-Headed Giant Sealed on Sunday.
The Journey into Nyx Pre-release presents players with a special opportunity to open a Pre-release Pack and continue their journey down the Hero's Path. There are five Pre-release Packs to choose from; each color has a heroic path: White–Forged in Glory, Blue–Forged in Intellect, Black–Forged in Tyranny, Red–Forged in War, and Green–Forged in Pursuit. The Journey into Nyx Pre-release will also be players' next opportunity to earn a Hero Card, which they can use to Defeat a God at the Journey into Nyx Game Day.
The cost is $25.
There are tons of great prizes to be won at Pre-Release events, both in the main events and through our door prize raffles. Door prizes range from deck boxes, sleeves, promo cards, play mats, packs, all the way up to special ultimate prizes. This time around we will be giving away Commander decks, fat packs, and other cool prizes.
How do you win these great prizes? Simply play! Every entrant to an event will receive one raffle ticket with their entry. If you pre-register and pre-pay for the event prior to Wednesday April 23rd, you will receive two door prize raffle tickets for each event you sign up for. And for the best chances to win, anyone who pre-registers and pre-pays for 3 or more pre-release events before April 23rd will receive three door prize raffle tickets for each event!
Players must be present at the store at the time of the raffle to be eligible to win prizes. Raffles are held between rounds two and three of the event. The Relentless Dragon is not responsible for lost, stolen, or misplaced raffle tickets. Make sure you keep them safe!
Pre-releases are casual, fun events where you get the opportunity to play with the new set's cards before they release. If you've never attended a tournament before, this is a great way to get involved with no pressure!