Ixalan Store Championship
WARNING! This event is in the past!!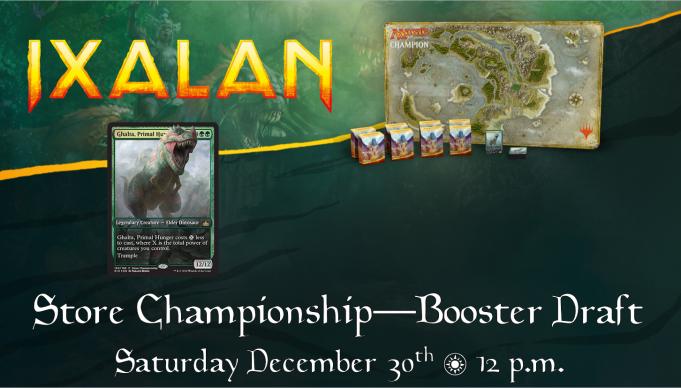 Event Date: December 30, 2017 WARNING! This event is in the past!!
Event Start Time: 12:00 p.m.
Event End Time: Unspecified (perhaps due to variability)
Event Location: 483 Amherst St., Nashua, New Hampshire
Event Cost: $15
Become The Relentless Dragon Store Champion and win awesome prizes. The top player will not only take the title of Store Champion for the next year, but will also get a sweet playmat featuring a full map of Ixalan. The top 8 players will all receive an exclusive deck box, and all participants will receive a full art promo card, while supplies last.
The cost to enter is $15 and includes the 3 packs for drafting as well as additional prize support.
Saturday December 30th
Registration begins at 11 a.m. and the event begins at noon.