Gatecrash Prerelease Events!
WARNING! This event is in the past!!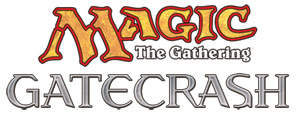 Event Date: January 26, 2013 WARNING! This event is in the past!!
Event Start Time: 12:01 a.m.
Event End Time: Unspecified (perhaps due to variability)
Event Cost: $25
Gatecrash is the second set in the wildly popular Return to Ravnica block. The first set, Return to Ravnica quickly became one of the three highest selling Magic sets in history based on the popularity of returning to the all-city plane of Ravnica. The plane of Ravnica was last visited in 2003's iconic Ravnica: City of Guilds block. Return to Ravnica reintroduced players to 5 of Ravnica's 10 dual-colored guilds. Gatecrash continues this process as a large set (249 cards) and reintroduces the remaining 5 guilds.
Like RTR before it, Gatecrash is destined to be a super hot release. The pre-release events allow you to play with the latest Magic set before it releases to the general public. Pre-release events are casual, fun events where you can play with new cards, make some new friends, and win great prizes as well.
There will be four events during Pre-Release weekend: Saturday January 26th at Midnight (Sealed Deck), Saturday January 26th at 11AM (Sealed Deck), Saturday January 26th at 3:30PM (2-Headed Giant Sealed), and Sunday January 27th at 12:00PM (Sealed Deck).
This is a sealed deck event, but with a special twist just for Return to Ravnica block events. Each player will receive a special "Guild Box" for their chosen guild. The box contains 5 Gatecrash packs, 1 special guild pack (plus guild-specific pre-release promo), a spindown die, and other goodies. Also, continuing the theme from RTR, you'll be able to play your pre-release promo card in your sealed deck!
Pre-registration (at the store) is strongly recommended. There will be a limit of 60 total players for each event, 12 for each of the five guilds represented in Gatecrash. Thus, if you are interested in a specific guild it is imperative that you pre-register early to lock in your preferred guild. Sign-up sheets at the store allow for a 1st and 2nd choice for guilds.
The cost is $25.
Events are run as swiss pairing with 4 total rounds. Prize payouts are based on your overall record in the event. Thus your tie-breakers are not critical–only your total round wins. Prizes are provided by Wizards of the Coast with a total prize pool equal to 2 packs of Gatecrash per participating player. Please see the store for a list of prize payouts based on Win/Loss records.
Additional door prizes will be awarded by random raffle during the Saturday 11AM event and the Sunday 12PM event. Every entrant will receive one raffle ticket. Those who pre-register for the events prior to the day of the event will receive two raffle tickets.
Pre-releases are casual, fun events where you get the opportunity to play with the new set's cards before they release. If you've never attended a tournament before, this is a great way to get involved with no pressure!