Dragon Ball Super Assault of the Saiyans Prerelease
WARNING! This event is in the past!!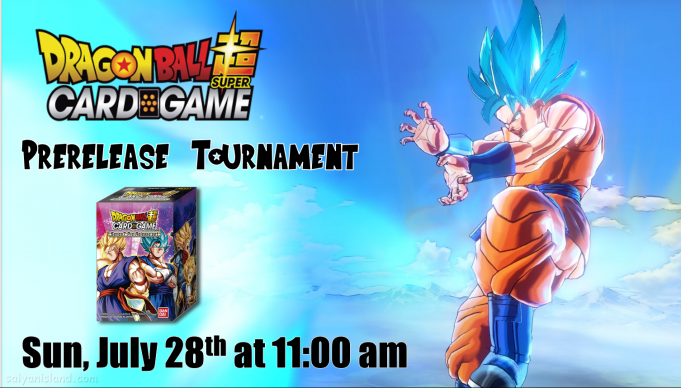 Event Date: July 28, 2019 WARNING! This event is in the past!!
Event Start Time: 11:00 a.m.
Event End Time: Unspecified (perhaps due to variability)
Event Cost: $30
Join us for the Dragon Ball Super prerelease tournament.for Series 7, Assault of the Saiyans! This set brings multi-colored cards to the Dragon Ball Super card game and will surely be a game changer.
Participants receive a Dragon Ball Super Series 7 Prerelease kit, which contains 6 booster packs of Series 7 plus 2 special prerelease booster packs.
Participants are also eligible to purchase Series 7 booster boxes during the event and will receive a special dash pack!
The cost to enter is $30.
Date: Sunday July 28th.
The event begins at 11 am, and signups begin at 10.