Android Netrunner 2015 Store Championships
WARNING! This event is in the past!!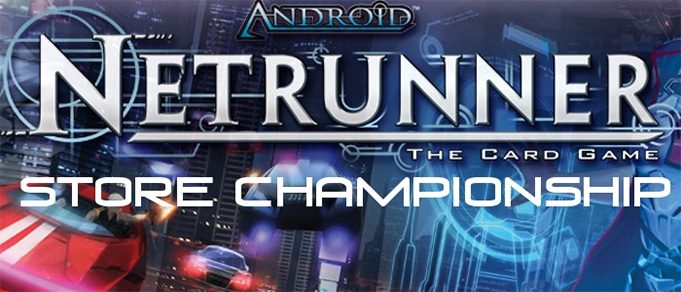 Event Date: March 7, 2015 WARNING! This event is in the past!!
Event Start Time: 12:00 p.m.
Event End Time: Unspecified (perhaps due to variability)
Event Cost: $10
Join us for a fun day of Android Netrunner! There are lots of participation prizes, as well as a 1st round bye to a Regional Championship.
Day: Saturday March 7th, 2015
Time: Sign-ups begin at 11:00AM
Start: Round 1 begins at Noon
Price: $10
Prizes:
1st Place: Champions Plaque and 1st Round Bye to a Regional Championship
1st – 4th Places: Top 4 playmat
1st – 8th Places: Deck box
1st – 32nd Places: Alternate art card
Additional prizes in the form of Store Credit may also be awarded based on total event attendance.
All players must have both a Corp and Runner deck, and all tokens necessary to play the game.
It is also strongly recommended that you fill out and bring a completed decklist with you to save time and writing. Decklists will be available to fill out in the store if you cannot bring one.
Blank deck lists are available on Fantasy Flight's site.