A Game of Thrones: the Card Game – Prime Championship
WARNING! This event is in the past!!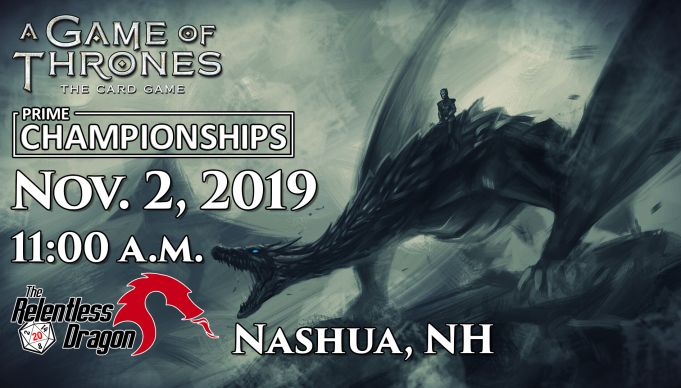 Event Date: November 2, 2019 WARNING! This event is in the past!!
Event Start Time: 11:00 a.m.
Event End Time: 8:00 p.m. (may be an estimate)
Event Cost: $20 pre-registration/$25 day of event
Pre-register online: Click here to preregister or register right on this page, below!
Add to your Google Calendar:
The Relentless Dragon is proud to host the FIRST A Game of Thrones: The Card Game (AGoT LCG 2nd Edition) Prime Championships in the United States!
On November 2nd, players will compete to claim the title of Prime Champion, and earn their invitation to the World Championships.
Prime Championships, formerly known as Regionals, draw the best players from all over the region. These players compete for awesome prizes and the coveted invite to Worlds.
Date: Saturday November 2nd, 2019
Time: Registration begins at 10:00 a.m. 1st Round begins at 11:00 a.m.
Swiss Rounds: Number dependent on participation
Top Cut: Dependent on participation
Cost: $20 pre-registration/$25 day-of-event
Tournament Regulations: https://images-cdn.fantasyflightgames.com/filer_public/64/6e/646ee158-0001-4088-bfd1-768e545cf454/gt_tournament_regulations_v30.pdf
Top 8: Players who place in the Top 8 of each individual faction will each receive a promotional character card. Among these characters, you'll find a few new alternate art versions, including Devoted Bloodrider, Bastard Daughter, and Painted Dogs.
Top 4: Players who fight their way into the overall Top 4 of the Prime Championship will be greatly rewarded. Each of these formidable players will walk away with a playmat featuring the largest of Daenerys' dragons, Drogon, with artwork by Jokubas Uogintas. In addition, these players will also receive a full set of fifteen acrylic Hand of the King power tokens. Separately, the Top 4 players of each faction will receive an extended art promotional card. Among these cards, you'll find alternate art versions of Dorea Sand and Janos Slynt.
Top 2: Both the finalist and the winner of the Prime Championship will each receive a full playset of each of the promo character cards. Of these prizes, Jon Snow, Obara Sand, and Dacey Mormont all feature alternate artwork. The Top 2 players of each faction will also receive a playset of the character card from their chosen faction. Regardless of your overall placement in the event, as long as you perform well within your faction, you will be handsomely rewarded for your gallant efforts.
Top of Faction: Top players of each faction will be honored with a gorgeous playmat proudly displaying their faction banners.
Champion: The winner of the Prime Championship will be awarded with a stunning playmat illustrating the parley at Storm's End, with artwork by Joshua Cairos. They will also receive a Hand of the King metal token, which can be used as a first player token or simply as a small reminder to other players of the decisive victory that was struck. Last but not least, the winner will be granted a reserved seat at the next A Game of Thrones: The Card Game World Championship.
Additional prizes may be provided based on total attendance.