Pokemon Lost Thunder Pre-Release Events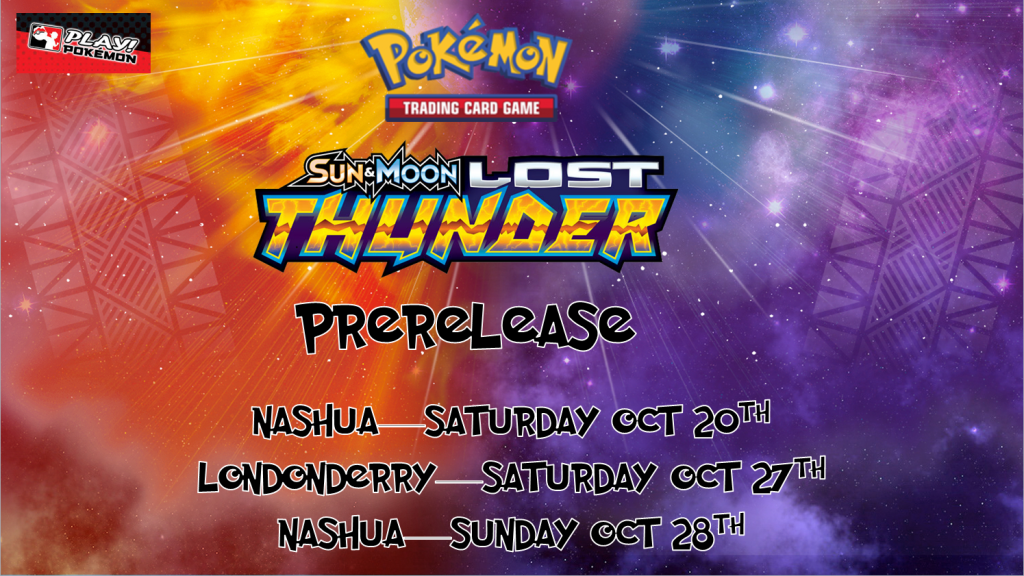 Join us for the exciting prerelease of Lost Thunder, the 8th set of Pokemon Sun & Moon.
There will be 3 total pre-release events for this set–two in Nashua and one in Londonderry.
Join us in Nashua on Saturday October 20th and Sunday October 28th or Londonderry on Saturday October 27th.
Each player will receive a Lost Thunder prerelease kit containing 4 booster packs of Pokemon Lost Thunder, a Promo card, and a special Evolution pack. At the completion of the event, each player will receive an additional 3 Lost Thunder booster packs.
On-site registration begins at 10:00 AM and the actual event begins at 11:00 AM. Pre-registration before the day of the event is strongly recommended as Pokemon prereleases do sell out. These events will be capped at 32 total players each in Nashua and 20 total players in Londonderry.