Pokemon League Cup Double-Header Weekend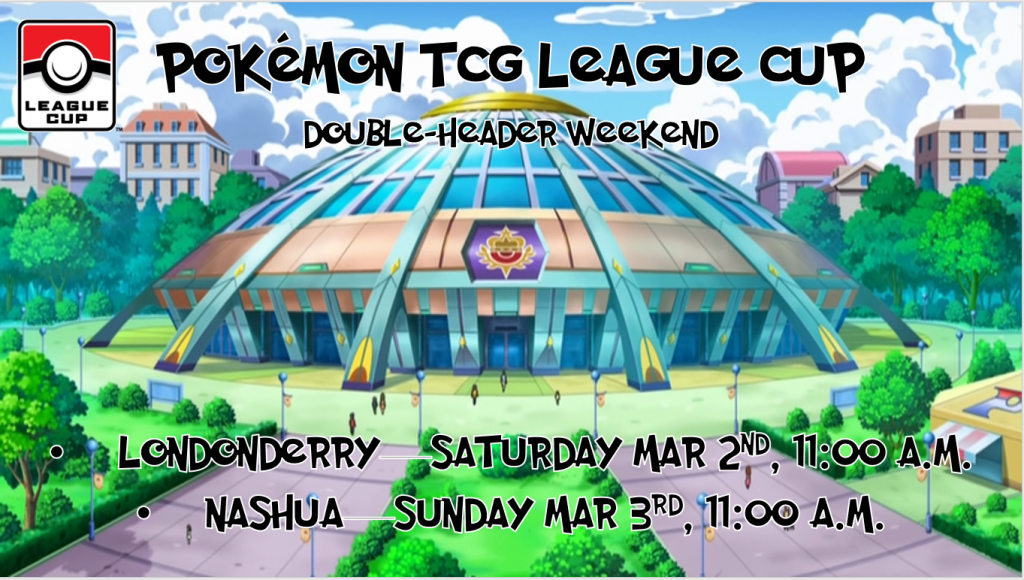 Join us for a double-header weekend of Pokemon League Cups in both the Londonderry and Nashua stores!

Date: Londonderry–Saturday March 2nd
Date: Nashua–Sunday March 3rd
Registration: 10:00 AM to 11:00 AM
Start: 11:00 AM
Format: Standard
Entrance Fee: $20.00 for Seniors and Masters, $15.00 for Juniors

Decklists will be required. Please try to save time by completing a deck list at home before the event. Blank lists will be provided at registration as well.

This is an STANDARD format event.

Total swiss rounds plus top cut will be based on attendance.
Rounds will be standard 30 minute rounds, best of 1 (Plus 3 turns at time).
Top cut rounds will be 60 minute rounds, best of 3 (Plus 3 turns at time).

Prizes:
1st: 1st place Playmat
Promos for all players
Payout based on attendance.

Additional prizes will be in the form of Team Up booster packs. Juniors will have 3 packs per player in the prize pool. Seniors and Masters will be 4 packs per player in the prize pool.

Also, players will receive championship points based on standing.