KeyForge Launch Party and Tournament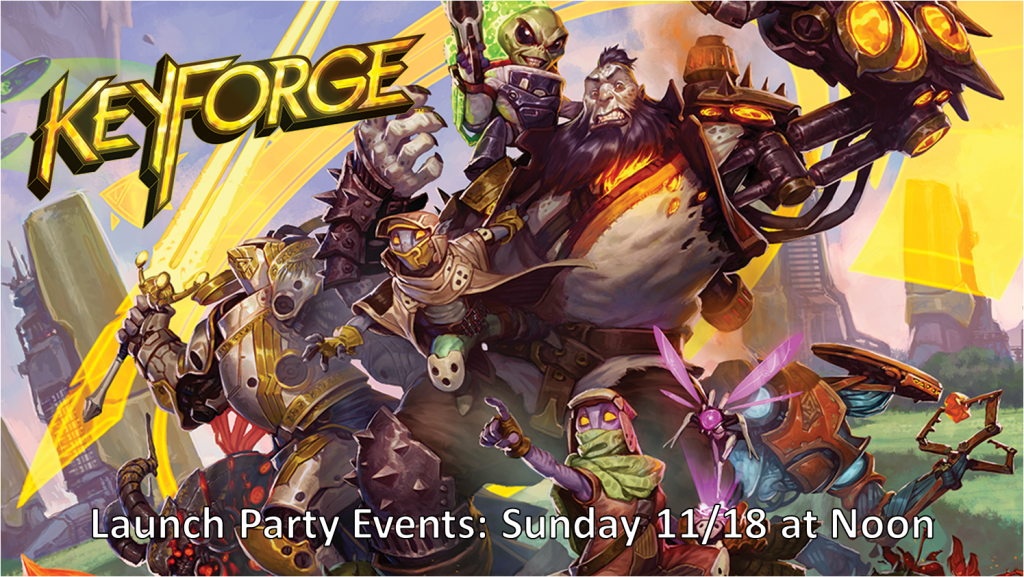 KeyForge officially releases on 11/15 and we'll be having a launch party and tournament on Sunday 11/18 at BOTH stores to celebrate!
Launch Party Events: Beginning at 12:00 PM (Noon):
Join other local players for a day of action and discovery as you participate in three fun activities designed to take you from novice to full Archon in record time. You'll even earn custom prizes for each activity you complete:
Pair up with another attendee, open your starter decks, and play with the Quickstart rules in a Learn-to-Play game.
Next, you'll open your unique Archon decks and register them in the Call of the Master Vault.
Finally, you and your fellow attendees will enjoy a quick, four-round Launch Party Tournament, using all four decks from your starter sets.
For each activity you complete, you'll earn an Active House card that you can use to indicate which House you're activating. For participating in the Call of the Master Vault, you'll earn a chance to add to your store's Create-an-Archon poster. And completing the Launch Party Tournament allows you to claim a poster for your favorite House!
Launch Party Activities are FREE (not including the cost of a starter set). Giveaways and prizes are available while supplies last.
Sealed Tournament: Beginning at 2:00 PM:
Everyone will receive a sealed Archon deck and participate in a tournament using only that deck. Total number of swiss rounds will be dependent on the number of participants.
Cost of entry is $15 which includes a brand new sealed Archon deck. Prizes will be awarded based on the total number of participants.