Dungeon and Dragons Role Playing Games and Accessories
What is Dungeons and Dragons?
The first Dungeons & Dragons game was played back in the 1970s, when Gary Gygax and Dave Arneson chose to personalize the massive battles of their fantasy wargames with the exploits of individual heroes.
This inspiration became the first fantasy roleplaying game, in which players are characters in an ongoing fantasy story. This new kind of game has become immensely popular over the years, and D&D has grown to include many new ways to vividly experience worlds of heroic fantasy.
The core of D&D is storytelling. You and your friends tell a story together, guiding your heroes through quests for treasure, battles with deadly foes, daring rescues, courtly intrigue, and much more. You can also explore the world of Dungeons & Dragons through any of the novels written by its fantasy authors, as well as engaging board games and immersive video games. All of these stories are part of D&D.
Click here to learn about playing Dungeons & Dragons at The Relentless Dragon!
Dungeons and Dragons 5th Edition Products
D&D Starter Set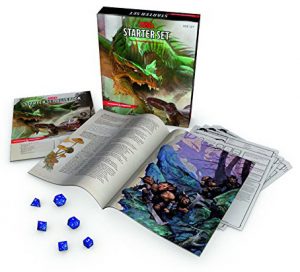 Everything you need to start playing the world's greatest roleplaying game.
Explore subterranean labyrinths! Plunder hoards of treasure! Battle legendary monsters!
The Dungeons & Dragons Starter Set is your gateway to action-packed stories of the imagination. This box contains the essential rules of the game plus everything you need to play heroic characters on perilous adventures in worlds of fantasy.
Ideal for a group of 4-6, the Dungeons & Dragons Starter Set includes:
64-page adventure book with everything the Dungeon Master needs to get started
32-page rulebook for playing characters level 1-5
5 pre-generated characters, with character sheet
6 dice
D&D Minis: Icons of the Realms Starter Set
The perfect companion for the D&D Starter Set.
The D&D Icons of the Realms Starter Set is the perfect supplement for your D&D tabletop roleplaying game.
The 6-figure Starter Set represents some of the most iconic characters classes and races from the Dungeons & Dragons universe, including a dwarf cleric, human ranger, halfling rogue, northlands fighter, elf wizard, and the famous drow ranger, Drizzt Do'Urden.
Combine these high quality miniatures with the 44 found within the D&D Icons of the Realms: Tyranny of Dragons booster packs to bring an exciting new depth to your D&D adventures.
Player's Handbook
Everything a player needs to create heroic characters for the world's greatest roleplaying game.
The Player's Handbook is the essential reference for every Dungeons & Dragons roleplayer. This hardcover book contains rules for character creation and advancement, backgrounds and skills, exploration and combat, equipment, spells, and much more. Use this book to create exciting characters from among the most iconic D&D races and classes.
The world needs heroes. Will you answer the call?
Hoard of the Dragon Queen
Fight the war against draconic oppression in this adventure for the world's greatest roleplaying game.
In an audacious bid for power, the Cult of the Dragon, along with its dragon allies and the Red Wizards of Thay, seek to bring Tiamat from her prison in the Nine Hells to Faerun. To this end, they are sweeping from town to town, laying waste to all those who oppose them and gathering a hoard of riches for their dread queen. The threat of annihilation has become so dire that groups as disparate as the Harpers and Zhentarim are banding together in the fight against the cult. Never before has the need for heroes been so desperate.
Hoard of the Dragon Queen is the first part of the "Tyranny of Dragons" storyline for D&D and is presented in a beautiful hardcover format.
Monster Manual
A menagerie of deadly monsters for the world's greatest roleplaying game.
The Monster Manual presents a horde of classic Dungeons & Dragons creatures, including dragons, giants, mind flayers, and beholders—a monstrous feast for Dungeon Masters ready to challenge their players and populate their adventures.
The monsters contained herein are culled from the D&D gameÂ's illustrious history, with easy-to-use game statistics and thrilling stories to feed your imagination.
Icons of the Realms: Tyranny of Dragons
Collect all 44 miniatures found in the D&D Icons of the Realms: Tyranny of Dragons boosters.
Found in 4 figure blind booster packs, and inspired by the Tyranny of Dragons storyline, you'll find dragons, kobold fighters, bugbears, wraiths, mind flayers, and many more iconic D&D characters guaranteed to level up your tabletop roleplaying game experience.
Dungeon Master's Guide
Everything a Dungeon Master needs to weave legendary stories for the world's greatest roleplaying game.
The Dungeon Master's Guide provides the inspiration and the guidance you need to spark your imagination and create worlds of adventure for your players to explore and enjoy.
Inside this beautiful hardcover book you'll find world-building tools, tips and tricks for creating memorable dungeons and adventures, optional game rules, hundreds of classic D&D magic items, and much more!
Polyhedral Dice
You can't play without dice!
We offer a large selection of both loose dice and dice sets designed for easy play. Basic sets start as low as $3.25, and we also offer premium metal and stone dice from Crystal Caste. View some of our dice sets or come by the store to see the whole selection!
"Dungeons & Dragons" and the Dungeons & Dragons logo are trademarks of Wizards of the Coast.